We're just gonna keep rolling with our mocks, now going five rounds deep. The needs are always the same, but every one keeps coming up with a different flavor. It's really interesting to watch the boards unfold.
Here's the results of our 14th mock:
.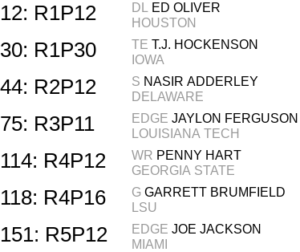 .
Round 1
After all but one of the top Edge players went in the top 10, I had a tough choice between Brian Burns and Ed Oliver. Burns has all the potential in the world, and may be the pick if he has a good combine (particularly if he can show up weighing 250 with no loss of mobility), but for now, I went with Ed Oliver, who has all the freakish abilities to disrupt from the defensive line, but is just a tad undersized (though bigger than Aaron Donald).
At 30, I had my pick of Tight Ends, which is a huge need for the Packers. I could have taken Noah Fant, a freakish receiving prospect with decent blocking skills or TJ Hockenson, a very good receiver who is also a devastating block. I went with TJ Hockenson, who I think will be a great fit in a LaFleur offense that will throw to him and take full advantage of his blocking skills.
.
Round 2
I was disappointed that even the second tier Edge guys were all gone by the top of the second round, so I went with Nassir Adderly to address another need on defense. Some questions came up about him in Senior Bowl, but I think it's a matter of using him properly. He's a pure free safety who has good ball skills and the skills to handle man coverage. He's not a downhill in-the-box strong safety. I think that makes him a good fit for what Pettine is doing.
.
Round 3
The round 3 talent desert strikes again. There just aren't a lot of guys I like at this spot unless someone falls. Guard Chris Lindstrom fell – he's a highly rated guard, but I don't think he's a good fit for zone blocking. The best I can do here is fill need with another Edge rusher, Jaylon Ferguson. He has a good rush, but lacks the bend of the prospects ahead of him. He has a good frame and if he can use his hands better, he can take it to the next level. There's a giant drop off in Edge players after him on the current board and he's still better than anyone the Packers currently have.
.
Round 4
With the first pick in the 4th, I just can't lay off Penny Hart. A little speedster, he took advantage of his shot at Senior Bowl and has the look of a killer out of the slot. I'm excited to see what Rodgers can do with him.
Not a lot of defensive help available with the second 4th rounder, though. Darnell Savage is here, but I already took one safety and Offensive Line has some prospects in the same tier. There's a few developmental tackles I like, so I gamble that one will be available later and take Guard Garrett Brumfield who is a good athlete for zone blocking while still being an aggressive run blocker. I'd prefer he fell to the 5th, but I'm ok taking him here given what's left on the board. This mock is really rough.
.
Round 5
Lots of guys I like here, but all of them are projects. Since they were at the same tier and the developmental OTs all seem to be dropping, I went with Joe Jackson at Edge. At 6'5, he bulked up to 260 this year and seems to have lost a bit of the quickness in his burst. Given that he's coming out as a junior, he may still be growing into his body, though. Strong against the run, he needs to develop more pass rush moves and get better feel for playing against blocking schemes instead of just concentrating on beating one blocker. Good motor, if he can continue to develop, he can be a full-time starter in a couple years.
.
Rounds 6-7
I'm not going that deep yet, but there's still some good OT projects to take on including:
Dennis Daley
Chuma Edoga
Isaiah Prince
.
Analysis
This draft didn't produce a walk-on stud at Edge like I wanted, but Ferguson and Jackson bring hope for the future. They can develop into a good to very good tandem over time.
Oliver, however, is a walk up stud who can team with Clark and Daniels to create a havoc-inducing line that Mike Pettine should be able to build off. Adderly can secure the back end. Getting a new top-end defensive lineman and safety should so wonders for this defense.
But LaFluer got some toys for the offense, too. Hockenson and Hart are immediate starter that will add sizzle to the offense. Hock should be a big contributor blocking in the run game and Brumfield has the potential to start at Right Guard from the get go.
.
Of Note
Deebo Samuel (who I loved since before he blew up at the Senior Bowl), is moving up boards and went in the first round.
.
Check out our PFTW 2019 Mock Draft Archive to see how other scenarios played out!
.