Edge rusher is clearly the biggest need for the Packers, but there is more than one way to address the pass rush. The top Edge prospects don't always fall to 12, so we might have to get creative. That's what happened in Mock 25. 
Here's the results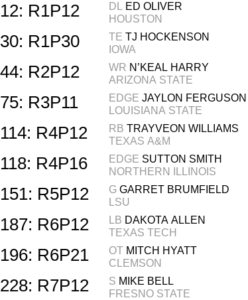 .
Round 1
Ed Oliver (DL) I had my choice of Polite, Sweat, and Burns for Edge rushers, which is more options that I usually have at 12. However, Ed Oliver slipped, so I took him. His rare athleticism at the line is too much to pass up – we ned pass rush and I think he will provide it. I'm hoping an Edge falls to 30, but I stand by this pick either way. Some people have size concerns about his size, but I'm not one of them. He's 6'1 290 (unless the Combine proves otherwise), which is bigger than Aaron Donald was when he came out. He is just as good at getting after the quarterback as the Edge guys on the board, which will help with the pass rush deficiency, and his presence will make it easier for whoever lines up with Kyler Fackrell.
TJ Hockenson (TE) I can't help it. TJ Hockenson was the best player on the board – by a long shot in my opinion – and he's a perfect fit for what LaFleur wants in a Tight End. Really good receiver, great blocker, the total package. As much as I don't think Tight End is a smart move int he first (read why here), having an extra pick helps lessen the blow.
.
Round 2
N'Keal Harry (WR) I still wanted Edge help in the second but there wasn't anyone I felt warranted the pick or separated themselves from the pack, so I went with value. Wide Receiver N'Keal Harry is a  6'3 215 beast of a receiver. It's hard to tell what LaFleur will do in this offense, but he ran a lot of 2 WR sets in Atlanta and Tennessee and seemed to favor bigger receivers, which could mean a player like Harry would be a perfect fit. He's an imposing figure, runs physical routes, blows through arm tackles and is a good blocker to boot. He ability to time jumps and come away with contested catches would be a perfect complement to Davante Adams in the red zone.
.
Round 3
Jaylon Ferguson (Edge) I finally hit Edge in the third round with Jaylon Ferguson. I think this is good value and Ferguson was the last remaining Edge on the tier and fell to the 3rd. He's 6'5, but still had room to add mass, which he'll need because he's a power rusher who uses his hands and moves more than elite explosion or flexibility,. He will want to build on that at the next level, but with 17.5 sacks and 26 tackles for a loss in his senior year, he has proven production that should transfer to the next level.
.
Round 4
Trayveon Williams (RB) The fourth round has provided all kinds of value and this time, is produced running back value. Trayveon Williams doesn't run with much power, but he is the ideal scat back that would be great in a complementary role. he's shown skill as a receiver, as well. I didn't set out to go heavy on offense, but it's how the board fell.
Sutton Smith (Edge/ILB) With second pick in the 4th, I still felt the need for more pass rush on the edge and grabbed versatile Sutton Smith. He really has a very complete game – speed, moves, finesse, athleticism – but he has one deficiency: size. At 6'0 225, he may not be an every down edge rusher, but he has the talent to be a pass rush specialist or a role player at off backer. Worst case scenario is special teams ace, which is still a position of need. In college, he actually played Defensive End before his athleticism prompted a move to Edge. He complied 29 sacks in 2 years and flashed next-level athleticism at the Shrine Game.
.
Round 5
Garret Brumfield (G) I've been neglecting interior line in this draft because someone always seems to fall to at least the 4th. Since there were a handful, I let it go another round. Garret Brumfield is a perfect fit for zone blocking. Gret athleticism and mobility, he fires out of his stance as an aggressive run blocker. At "only" 300 pounds, he still has a solid anchor. His pass protection is solid, but he can work on his hand technique to get even better,
.
Round 6
Dakota Allen (ILB) More toys for the defense with Dakota Allen. He's quick, good on inside blitzes, and among the best coverage linebackers in the class. He occasionally misses some gaps in run defense, but he shows good range and is very good value int he 6th. 
Mitch Hyatt (G / RT) Grabbing a little more offensive line depth, I went with. Mitch Hyatt. An All American and 4 Time All ACC as a Left Tackle, he's one of the most decorated linemen in the class. With a 6'5 305 frame, he has all the size he'll need at the next level. Still, he seems like a guy with a resume that's more impressive than his film. He has a bad habit of ducking his head and lacks a power anchor. Still, it's hard to ignore his production n the 6th round. He's a great developmental prospect.
.
Round 7
Mike Bell (SS) All draft, I wanted a safety and I just couldn't find one that fit value. They were getting picked over pretty good in this draft. Mike Bell has great size at 6'3 205, and will fight for balls, but he only has average range and didn't do a lot of man coverage, which I think Pettine likes in his safeties. BEll does play smart, though, takes good angles, and doesn't miss many tackles. In the 7th round he's also a guy who can play special teams with a lot of hustle.
.
Analysis
I think Ed Oliver changes the complexion of the defense and adding Ferguson and Smith into an edge rotation would be a big step up from last year. Hockenson, HArry, and Williams give the offense a big facelift while Brumfield and Hyatt can bring a little depth to the line.
This draft really lacked a top-tier Safety or a premier Edge threat, so both would still be on the wish list for free agency. 
.
Of Note
Noah Fant went #8 overall to Detriot – there's been talk of Detriot wanting to upgrade TE (and they took Ebron a few years back and tried to trade for Gronk), but this is still the highest Ive seen Fant go – usually he's second round
Garrett Bradbury and Dalton Risner – two offensive linemen I would love at 44 – both went top 25 this time 
Three CBs went top 15
Even though boards see to have accounted for Jeffery Simmons's injury, he still went 32 overall – not an unsurprising move for the Patriots, who never see, to panic in long-term planning
Joe Giles-Harris, who I got in the 6th or 7th the last couple of drafts and I really like late, went in the 2nd round this time – a lot of my targets have been moving up lately
.
Check out our PFTW 2019 Mock Draft Archive to see how other scenarios played out!
Check out Packers Draft Central for all our 2019 NFL Draft coverage!
.