Its finally here.
It's Draft Day.
No more mock drafts.
Except this one.
Please enjoy our final mock draft of the 2021 offseason. It's a good one.
Here are the results: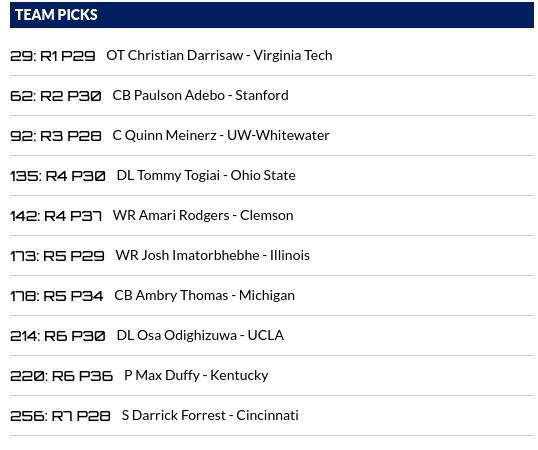 .
Round 1
Christian Darrisaw – Offensive Tackle
Profile: A dominant prospect, the 6'5 315 Darrisaw has great pass blocking technique, the mobility to pull and do anything for zone blocking, and aggressive power in run blocking. He started his career at a left tackle as a freshman and never looked back. He is a complete tackle in every senses of the word.
Analysis: I went into this mock, hoping Samuel Cosmi would available (since he was the guy I predicted the Packers would take in this fantastic CheeseHeadTV article), but I was pretty shocked to see Christian Darrisaw drop down to 29. He has the look of a franchise left tackle. If Bakhtiari isn't healthy for the start of the season, he could play there. Whenever Bakhtiari does come back, Darrisaw could be a dominant right tackle. This move could give Green Bay the best tackle tandem in the league.
.
Round 2
Paulson Adebo – Cornerback
Profile: An instinctive man cover corner, the 6'1 195 Adebo shows good speed and length to cover on the outside. He has great ball skills and is versatile enough line up in any formation. He's an all-around solid corner.
Analysis: The cornerback class was really getting picked over here. I thought about Levi Onwuzurike because I think he would be a great value pick here, but I just don't think he fits what the Packers want to do. Adebo does.
.
Round 3
Quinn Meinerz – Center
Profile: One of the more popular stories of the draft, Meinerz dominated the D3 level, the had an eye-opening Senior Bowl, showing he could hold his own against stronger competition, then followed that up with a some great social media. Cutting through all the noise and attention, Meinerz is a strong run blocker with quick hands and reaction in pass protection. He's a hustle guy with just enough mobility for zone blocking and looks to be right around the Top 100 prospect cutoff.
Analysis: I was very tempted to take a defensive lineman again and Bobby Brown was still there. In the end, I went with Meinerz, who I think is a better player. Even though the Packers already took an offensive lineman and have some young guys in the stable, I like this pick. Last year showed how much they need depth. With Meinerz penciled in at center and Darrisaw taking over at tackle, the Packers can use guys like Runyan as swing players instead of scrambling for depth.
.
Round 4
Tommy Togiai – Defensive Lineman
Profile: A powerhouse on the interior, Togiai was a run stuffer most of his college career. Last year, he added more pass rush to his game. Mostly a gap shooter, he can hold run lanes with a 6'2 300 and has great change of direction and agility to fight through the line to go with a natural feel for finding the ball carrier.
Analysis: I was hoping Bobby Brown might slip, but he went two picks before me. Togiai isn't a bad consolation prize, though. He's a similar player and his size and strength make him a good fit to sit next to Kenny Clark when the Packers run their famous two-man lines, and he brings good drive in short yardage packages. He's a great complement for the pass-rushing Kingsley Keke.
Amari Rodgers – Wide Receiver
Profile: A powerfully-built receiver, the 5'10 210 Rodgers wowed scouts by putting up 24 reps on the bench press. He pas physical, fights through press, and can block. But he's not just a power guy, he runs great routes and is fast enough to get separation. Plus he doesn't drop much.
Analysis: Rodgers doesn't have the size the Packers have typically favored lately, but he has all the other features the Packers look for. While he's a true receiver, he shows the agility for the Tyler Ervin gadget role and that versatility could endear him to the Packers.
.
Round 5
Josh Imatorbhebhe – Wide Receiver
Profile: A big, strong receiver, Imatorbhebhe brings great hands to go with his 6'2, 215 frame, giving him a great catch radius. He doesn't have great speed, but he's physical at the catch point and tough to bring down. Needs to work on his route tree, but has has success going deep and working underneath.
Analysis: This is a prototypical LaFleur receiver and would be a great complement to Amari Rodgers now and into the future, which is important since the Packers don't have any receivers under contract for next season.
Ambry Thomas – Cornerback
Profile: Fast and physical, Thomas boasts 4.37 speed and has no problem throwing his 6'0, 185 frame around. He locks into his man whether he's on the perimeter or in the slot. Stutters in zone, but has a great press in man coverage and is always around the ball.
Analysis: The Packers need a lot of help in the cornerback room and Thomas would be a great slot player if Paulson Adebo could take the other outside position. Then, Kevin King could play when he's healthy and not need to gut out games because they don't have a better option.
.
Round 6
Osa Odighizuwa – Defensive Line
Profile: A defensive lineman/edge rusher hybrid, the 6'2, 280 Odighizuwa flies off the ball and brings pass rush heat. He has good hand usage, but needs more weight and power to be a factor in the run game.
Analysis: A nice situational player, the Packers clearly value their pass rush and Odighizuwa wold give them another tool.
Max Duffy – Punter
Profile: The top punter in the class, Duffy won the Ray Guy award in 2019 and showed off his leg strength last year with a 75 yarder.
Analysis: You know what? This has been a great draft, so why not get a punter? JK Scott isn't everything we hoped and he could use some competition.
.
Round 7
Darrick Forrest – Safety
Profile: A versatile defensive back, the 6'0, 200 Forrest can play high, low, in the box, or slot. He's not an exceptional athlete, but he's smart and always around the ball.
Analysis: The Packers have a great starting safety tandem, but need depth and Forrest also has the tools to be asset on special teams.
.
Analysis
I really like this class – I wouldn't have fooled around with a punter if I didn't. Darrisaw is an absolute gift. Adding Meinerz with him makes their offensive line one of the best in the league. Togiai brings another element of force to the defensive line and Adebo and Thomas upgrade the secondary. Throw in a couple receivers and even a punter and you have a very good draft class.
.
Of Note
Marvin Wilson went very early in the 3rd round, which is the highest I've seen him go. He's a boom or bust guy to watch.
For this mock, I drafted against the board from Drafttek.
.
Want to learn more!?
Want more insight into how winning teams build through the draft (and how losing teams fail)? We've got you covered!
Start shallow, then get deep into understanding draft strategy with our draft book (rated a #1 New Release): A Fan's Guide To Understanding The NFL Draft: Strategies, Tactics, And Case Studies For Building A Professional Football Team
Then jump into free agency with another #1 New Release: A Fan's Guide To NFL Free Agency Hits and Misses to better understand this critical part of the NFL offseason and see where teams have found (or missed) success in this critical component of team-building.
Finally, get to the game behind the game with our new must-have book for 2021: A Fan's Guide To Understanding The NFL Salary Cap – which lays out detailed, easy-to-follow scenarios to explain exactly how contract structures and salary cap rules impact teams.
All these great books  are available in ebook and paperback – and free for Kindle Unlimited subscribers!
If you don't have Kindle Unlimited, you can get a free trial of Kindle Unlimited here!
Don't just watch the draft – understand it and learn why GMs make the moves they do.
.
Check out our PFTW 2021 Mock Draft Archive to see how other scenarios played out!
Check out Packers Draft Central 2021 for all our 2021 NFL Draft coverage!
.