The board didn't fall well for the Packers in this draft. I really felt like the best player left on the board was Jordan Love.
Now, I'm not necessarily a proponent of going for a QB high in this draft, but if the Packers brain trust thought it was the best move, I'd give them the benefit of the doubt.
In this mock, since things fell that way, I figured I'd let it play out and see how it went.
With all the other needs, could the team still fill all their biggest short term needs if they made this long term investment in the future?
I tried to find out.
Here are the results: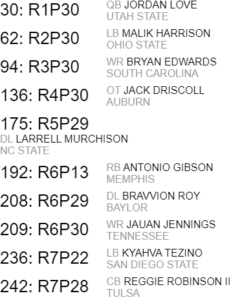 .
Round 1
Jordan Love – Quarterback
Profile: At 6'4 224, Love has good size and mobility. He also has a big arm, making deep throws look effortless. Throws well on the run and has big hands for cold weather. He is aggressive downfield, but sometimes to a fault. He has a tendency to lock on to his guy and force passes. He needs to work on his reads to take his game to the next level.
Analysis: This isn't what I'd prefer the Packers do, but it's in the realm of possibility. The board was very unfavorable for the Packers, so I wanted to see how this draft would pan out. He has big hands to handle the cold weather and all the talent in the world. Most of his shortcomings are on the mental side, making him a very high-ceiling prospect. However, draft history is flooded with flamed-out QBs who had monster arms and couldn't get the mental end of things down.
.
Round 2
Malik Harrison – Inside Linebacker
Profile: With a good frame at 6'3 247 and solid speed at 4.66, Harrison plays smart as a thumper. He's aggressive in challenging runners and does ok in zone coverage, though he isn't a great man coverage linebacker. He had the 6th best 3 cone drill of all players at the Combine, showing a lot of athleticism.
Analysis: With 11 receivers off the board (basically meaning a third of the league took a receiver with one of their first two picks), going for the need at inside linebacker was the easy choice here.
.
Round 3
Bryan Edwards – Wide Receiver
Profile: Bryan Edwards is built. At 6'3 212, he plays with a violence that is rare for his position. His speed is good (but not great) and he uses his hands and feet at line to create separation. His routes need some refining, but hes very shifty and catches contested balls way more often than not.
Analysis: The Packers traditionally haven't used speed burners and Edwards is a big bodied talent that would fit a LaFleur offense well. He needs some work to get his routes crisp enough for Rodgers, but he still has the talent to outplay a 3rd round selection in a super deep class.
.
Round 4
Jack Driscoll – Offensive Tackle
Profile: At a lean 6'5 306, Driscoll lacks the functional strength to be a dominant gap scheme tackle. He holds the edge with his flexibility and great hand technique. He is fluid in the open field and has great lateral mobility, making him a good fit for a zone blocking scheme. As a four year starter, he comes into the league polished.
Analysis: Driscoll has a nasty temperament that will fit right in with the Packers. He has the skills for a zone blocker and lacks the tools for gap scheme, making him a great find for the zone-blocking Packers in the 4th round.
.
Round 5
Larrell Murchison – Defensive Line
Profile: A quick gap shooting lineman, Larrell Murchison, at only 6'2 297, is also surprisingly good at holding 2 gaps. He has a strong upper body and lots of hustle. He could stand to add some leg power and his processing will need to speed up if he wants to crack the starting lineup, but he comes into the league ready for sub package work.
Analysis: The Packers need more guys who can hold point in the run game. Murchison isn't a prototypical block eater, but he can hold down the fort and offers a quick first step that comes in handy in disrupting runs and rushing the quarterback.
.
Round 6
Antonio Gibson – Running Back
Profile: At 6'1 220 with 4.39 speed, Gibson's Combine line looks exactly like Jonathan Taylor's. He's a power runner with the patience for zone. He hits top speed quick, breaks tackles through contact and balance from leg strength. In college, he played a lot from the slot and is great pass catcher, though this limited his work as a blocker.
Analysis: I don't know why he keeps falling. His versatility probably takes him down in the mocks because teams don't know where to rate him, but I don't think he goes this late in the real thing. If he does, the Packers could pick up quite a weapon late.
Bravvion Roy – Defensive Line
Profile: Bravvion Roy is big boy block-eater. At 6'1 330, he can play pure nose tackle or place 3-4 end and own two gaps. Super strong with freakish movement for his size, he can push through or slip between blockers. He doesn't have twitch to rush the passer, but he doesn't get moved either.
Analysis: I was tempted to take Roy earlier when I took Murchison and was thrilled to see him here. He would be a huge piece of upgrading the run defense and would have an immediate impact.
Jujuan Jennings – Wide Receiver
Profile: Great body at 6'3 215 with poor speed at 4.73. He didn't play fast in his career, but he was productive. He struggled to separate against cornerbacks at the Senior Bowl and then timed poorly at the Combine, sending his draft stock plummeting. He has power to break tackles and block well, he could be a big slot or tight end in the NFL to get better matchups.
Analysis: Jennings looked like he was going to go higher right after the season. His speed limitations dropped him, but at this point, he's worth a look to see how he could fit as a hybrid weapon in LaFleur's offense.
.
Round 7
Kyahva Tezino – Linebacker
Profile: Undersized at 6'0 236, Tezino is a still a thumper. He hits gaps and is a good blitzer. He's persistent in pursuit and plays with a hustle that translates to special teams.
Analysis: In the 7th round, the odds of hitting it big on a future starter are low, so I like getting guys who can contribute on special teams and maybe play in sub packages. Tezino fits that bill.
Reggie Robinson – Cornerback
Profile: Robinson has good size at 6'1 205, good speed at 4.44, and great strength (22 reps on the bench) for a cornerback. He covers the sideline well and is a big hitter who gets a lot of pass breakups. He's a little slow on sticking releases and sometimes can't keep up with change of direction receivers, but he's solid all around.
Analysis: Robinson is one of my favorite later round prospects for the Packers. He has the tools and really plays solid with no gaping deficiencies. I think he will climb the boards, but if he doesn't, this is fantastic value for a team that may have to replace Kevin King next year.
.
Of Note
Six wide receivers went between picks 9 and 23 – that's a run!
.
Understand even more!
Get even deeper into understanding draft strategy with our new book (rated a #1 New Release): A Fan's Guide To Understanding The NFL Draft: Strategies, Tactics, And Case Studies For Building A Professional Football Team
Available in ebook and paperback – and free for Kindle Unlimited subscribers!
If you don't have Kindle Unlimited, you can get a free trial of Kindle Unlimited here!
Don't just watch the draft – understand it and learn why GMs make the moves they do.
.
Check out our PFTW 2020 Mock Draft Archive to see how other scenarios played out!
Check out Packers Draft Central 2020 for all our 2020 NFL Draft coverage!
.