The purpose of PFTW's mock drafts is not (repeat not) to try to guess who the Packers might pick. 
Instead, it's to get familiar with the players who might be available when they're on the clock and see how various scenarios could play out (read more about it here). This simulation is a shining example of that.
Here are the results: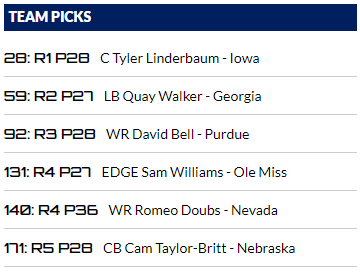 .
Round 1 Tyler Linderbaum – Center
Profile: A 6'3 290 defensive tackle turned center, Linderbaum is a fantastic athlete with a wrestling background who is still learning the position. Quick out of stance and extremely mobile, he's an elite pass protector and super strong (with a record-breaking 590 pound squat as a freshman). Powerful defensive tackles that get under his pads can move him due to lack of mass, and his shorter arm measurement (31 1/8″) could drop him.
Analysis: I know, center is not a need for the Packers, especially after Josh Myers showed promise as a 2nd round rookie last year. The point of these mock drafts isn't to try to guess who the Packers will take (that's largely a hopeless endeavor),, but to get to know which players might be available when the Packers pick. Linderbaum is probably one of the 10 best players in this draft. A short arm measure and playing a position that doesn't get a lot of premium attention might drop him. The point of this exercise is to see what the rest of the draft might look like if they took him.
.
Round 2 Quay Walker – Linebacker
Profile: A harder hitter that hits hard and wraps up, Walker brings 4.52 speed with a 6-4, 245 pound frame. Never stops and fights through block. Occasionally misreads holes in the run game, but his long arms help him hold gaps and make plays. Also good in pass coverage.
Analysis: Whether the Packers keep De'Vondre Campbell or not, they could use more talent at linebacker. Walker isn't a complementary linebacker, he's an alpha. He can do it all and there is no way to not find a way to use him.
.
Round 3
David Bell – Wide Receiver
Profile: Bell is not a physical freak at 6'2, 205, but he is a route technician with a lot of moves off the line. His timed speed of 4.65 may drop him in the draft, but he plays faster than he times. With great hands that doesn't allow the ball to be knocked out, he regularly makes acrobatic catches.
Analysis: The Packers need receivers. Bell has size, hands, and routes – those are more important than speed in LaFleur's offense, making this a good fit for the team.
.
Round 4
Sam Williams – Edge
Profile: An athletic rusher that can play end, the 6'4, 265 Williams brings incredible 4.46 speed to the position. He jumps off the snap and holds a strong edge. He has powerful hands, but needs to refine his hand moves. He sometimes loses leverage, but overall is a strong hybrid type.
Analysis: The Packers have preferred hybrid edge rushers like Williams to the smaller, quick-twitch pass rush specialists (like Rashan Gary over Brian Burns). With Za'Darius Smith on the way out and Mercilus Whitney a free agent, the Packers need someone who can handle a solid snap count in their scheme.
Romeo Doubs – Wide Receiver
Profile: Doubs (6'2, 200) has long arms and naturally catches over his shoulder, giving him great range on deep balls. He plays fast, runs great routes, and has strong hands, which he makes good use of in contested catches. Once he gets the ball, he finds a way to get yards in the open field running or cutting or breaking tackles. He's not great off the line, but given how he learned tot run routes, seems like he could be coached up in that area.
Analysis: Another tall receiver with strong hands and great route-running ability. These are the kind of solid receivers the Packers can win with.
.
Round 5 Cam Taylor-Britt – Cornerback
Profile: A super fast corner with 4.38 speed, Taylor-Britt, at 6'0, 200, plays very physical. He needs to work on tackling technique and footwork, but is aggressive in going after the ball. Good in man coverage and at his best in zone (where he can read the play and break), he could also play safety.
Analysis: The Packers have a great corner tandem with Jaire and Stokes. Rasul Douglas may or may not be back, but, either way, a versatile defensive back like Taylor-Britt could be a long-term fixture with Jaire, Amos, and Savage all coming up on contract and no proven depth behind them. 
.
Analysis
I'm not a fan of taking Linderbaum here, but can't deny his talent. He would have to be part of a reshuffling plan on the line.
The purpose of this simulation, though, was to see what would happen if the Packers threw a curve ball in the 1st round.
The answer, I think, is pretty impressive.
Walker could be a big boost on defense with impressive athleticism. He could be a (very) poor man's Devin White. Williams and Taylor-Britt could both fill immediate rotational roles while potentially developing into starters.
On offense, Bell and Doubs are the solid, unspectacular type of receivers that to the tough things that a LaFleur offense needs from their receivers.
.
Of Note
Three quarterbacks went before the Packers – even in a weak class, they're in high demand.
For this mock, I drafted against the board from FanSpeak – Jake Rigdon.
.
Want to learn more!?
Don't just watch the draft – understand it and learn why GMs make the moves they do. Get more insight into how winning teams build through the draft (and how losing teams fail)! Start with a introduction to how the draft works then get deep into understanding draft strategy with our draft book (rated a #1 New Release): A Fan's Guide To Understanding The NFL Draft: Strategies, Tactics, And Case Studies For Building A Professional Football Team
Then jump into free agency with another #1 New Release: A Fan's Guide To NFL Free Agency Hits and Misses to better understand this critical part of the NFL offseason and see where teams have found (or missed) success in this critical component of team-building. Finally, get to the game behind the game with our latest must-have book: A Fan's Guide To Understanding The NFL Salary Cap – which lays out detailed, easy-to-follow scenarios to explain exactly how contract structures and salary cap rules impact teams. This book explains why teams do what they do in the offseason! All these great books are available in ebook and paperback – and free for Kindle Unlimited subscribers! If you don't have Kindle Unlimited, you can get a free trial of Kindle Unlimited here!  
.
Check out our PFTW 2022 Mock Draft Archive to see how other scenarios played out!
Check out Packers Draft Central for all our latest NFL Draft coverage!
.