The Packers have a lot of needs. Wide receiver seems to get the most attention because the Packers attack just hasn't looked the same since 2011. It's a deep class, which has people excited that the Packers can get a top prospect, but its just as likely they take advantage of the deep class by addressing other needs first and grabbing a receiver later.
That's what happened in this mock.
Here are the results: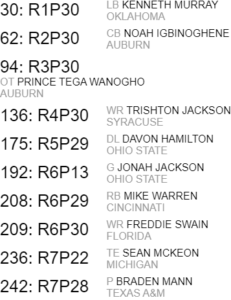 .
Round 1
Kenneth Murray – Inside Linebacker
Profile: He's big (6'2 241), he's fast (4.52), he's powerful (21 reps on the bench), he's explosive (38″ vertical and 128″ broad jump), but most importantly, he can translate his incredible gifts to playing football. He's a sideline to sideline run defender that had 29.5 tackles for a loss in his last two years, he can cover like a safety, and blitz (with 8.5 sacks over the last two years) and he's coming out as a junior, meaning he has a little more room to grow than some other prospects.
Analysis: Even with the addition of Christain Kirksey, inside linebacker remains a need. Kirksey has had issues staying healthy and the Packers need more than just one guy to play the middle. After Isaiah Simmons, Murray is the clear second-best prospect in this class and the Packers would be lucky to get him at 30.
.
Round 2
Noah Igbinoghene – Cornerback
Profile: Noah Igbinoghene is a unique prospect. He entered college as a receiver with great athleticism. After being converted to cornerback, he is still growing at the position. He doesn't read quarterbacks, track the ball, or tackle well. However, he's a powerful presence at 5'10 198 and has 4.4 speed. He plays fiesty and even though his footwork is still coming together, his has great body control, flexibility, and recovery burst to stay with his man. Highly competitive, he's also an accomplished kick returner and punt gunner.
Analysis: I really like Ig as a prospect. The fact that he's been as good as he has while learning the position makes him an exciting prospect for me. Plus, he's a hustle guy with special teams ability. Given that he has shown a lot of growth over the last two years, I could see him moving up charts.
.
Round 3
Prince Tega Wanogho – Offensive Tackle
Profile: Prince Tega Wanogho is a 6'5, 308 pound Nigerian prince who started his athletic career with swimming, soccer, and basketball. He went to high school on a basketball scholarship, where he only played one year of football (as a defensive lineman). He's very athletic and his basketball and soccer background show in his movement skills, making him a great zone blocking prospect. He's not a power blocker and needs to add strength (he gained 50 pounds in college to bulk up, so he's still learning to use his body as he learns the position), but he has a nice quick pop and can move easily in pulls.
Analysis: Another player new to his position, Prince is actually newer to the sport. His strengths in zone blocking play directly into what the Packers want to do and with the right tackle hole patched in free agency, Prince could challenge for a starting position immediately and grow into a top-end right tackle long-term.
.
Round 4
Trishton Jackson – Wide Receiver
Profile: A converted quarterback and former basketball standout, Jackson is another player still learning his position. He's a smooth route runner with quick acceleration who does a good job manipulating speed in his routes. He's only had one year of production, but has a 6'1 frame and plays faster than his 4.5 times speed. He can get deep and work medium routes even if he isn't a red zone guy who grabs contested catches.
Analysis: The Packers added Devin Funchess to provide a quick boost the to the wide receiver group, but they still almost have to add another guy in the draft. Luckily, this is a historically deep draft at the position and the Packers could potentially find a contributor on Day 3. Jackson is the kind of athletic route runner that could thrive in the Packers offense.
.
Round 5
Davon Hamilton – Defensive Line
Profile: A strong, athletic penetrator Davon Hamilton played a of of 4-3 defensive tackle in college, but with a 6'4 320 frame and the strength to put up 33 reps on the bench, he has the ability to 2 gap in a 3 man front. He's pass rush is underdeveloped, but he's a strong run defender who finds the ball quick and one-third of his career tackles were for a loss.
Analysis: The Packers need help up front to stop the run and they favor taller players in the box, making Hamilton an interesting fit. The way he owns double teams would make him a great partner for Kenny Clark and would really free up the revamped inside linebacker unit to make plays.
.
Round 6
Jonah Jackson – Guard/Center
Profile: Jonah Jackson was unable to get a starting gig in 4 years at Rutgers, then transferred to Ohio State and started at right guard, earning All Big 10 and 3rd team All American honors. He has protoypical guard size at 6'3 306 and also has experience playing center. Flexible and mobile, he gets out front in pulls and flows easily to the second level in zone blocking. He lacks dominating power, but plays aggressively, though he has a tendency to miss hand strikes and play a little high.
Analysis: Zone blocking teams find value by waiting until day 3 to pick athletic guys who aren't strong enough to start in the more popular power gap schemes. Jackson is a prime example of the type of value that can be found late. With Corey Linsley coming up on contract, the Packers need someone else to keep for that job.
Mike Warren – Running back
Profile: Mike Warren would probably go a lot higher if he was taller than 5'9… but he's not. He is 226 pounds, though, giving him an imposing frame. A no nonsense power back, he could trim down to add some quickness. He doesn't have a lot of moves, but he has a strong cut and stop-start ability and he will power through tacklers to create yards. Doesn't have high end speed to be a feature back, but he can convert short yardage and is a surprisingly good receiver for size, with good hands and routes.
Analysis: Warren probably won't be a feature back, and he's not a breakaway home run hitter, but the guy can consistently punch out yards on inside zone runs. His cutting and tackle-breaking allow him to rip off some chunks, too. He would fit well as a change of pace back who could take on a bigger role next year, when the Packers top three running backs all come up for contracts.
Freddie Swain – Wide Receiver
Profile: Freddie Swain has decent size at 6'0 197 and good speed at 4.46.  gets open, but isn't disciplined with his routes. He uses a lot of jump steps and random moves to work past defenders and needs to be harnessed, He has good hands, good speed, and also works as a kick and punt returner.
Analysis: Swain has all the tools, but would need to get a lot more disciplined in his routes to work in Green Bay. If he could translate his impressive footwork to tighter routes, he could be a steal this late in the draft.
.
Round 7
Sean McKeon – Tight End
Profile: A big blocking tight end, the 6'5 242 McKeon can hold edge in one on one blocking. He runs good routes and has decent hands – he doesn't excel in any area of receiving, but he's not totally one dimensional, either.
Analysis: McKeon drops because he doesn't jump off the page with his receiving skills. However, he's a pretty decent receiver. Coupled with his blocking skills, he could become an in-house replacement for Marcedes Lewis in an offense that uses different types of tight ends. He and Sternberger could be a long-term duo.
Braden Mann – Punter
Profile: Braden Mann has shown good power over his career, averaging almost 50 yards per punt. He's a good directional punter and good pooch punter, but needs to work on his hang time. He's also a surprisingly good tackler with 10 stops.
Analysis: JK Scott is good, but he's shown a maddening habit of shanking punts at the worst times. There's no reason to not bring in some competition.
.
Of Note
I received a trade offer from the Browns. They wanted the Packers 2nd round pick (62 overall) and offered their compensatory 3rd (97 overall) and 7th plus a 2nd rounder next year. I would have taken that without hesitation. People disagree, but I think dropping one round to pick up the original round in the following draft is too much value to pass up. This is especially true if we're trading with a team like the Browns.
The Falcons also offered their 4th and 7th plus a future 3rd for the Packers 3rd. Since the Packers pick at 30 this year, I think these type of future swaps could be very beneficial to the team in the long run.
.
Go deeper!
.
Check out our PFTW 2020 Mock Draft Archive to see how other scenarios played out!
Check out Packers Draft Central 2020 for all our 2020 NFL Draft coverage!
.