Trading down is a controversial move when you have an older quarterback, like the Packers do.
Do you go all in aggressively mortgaging the future for one last chance?
History shows that has a failure rate hovering around 99%.
I'm a fan of trading down because I believe the draft is a crapshoot. I especially favor trading down this year, because I don't think there's a huge drop off between the 30th overall pick and the 62nd overall pick.
I went into this mock like any other, just looking to explore who could be available where for the Packers. But then I started getting trade offers that allowed me to maximize the value the Packers could get on day 2. In the end, I think this approach got a 1st round talent, plus a ton more value.
Here's a quick overview of the trades that came up, which I took:
Texans offered two 2nds (8 and 25 in the round) for the Packers 30th overall pick
Then I sent the 8th pick in the 2nd round (from the Texans) to the Ravens for two more 2nd round picks (23 and 28 in the round)

Sent my 4th and 5th round picks to the Ravens for the last pick in the 3rd round.

Since I was looking for quality over quantity, I packaged up my day three picks (three 6ths and a 7th, since the simulator can only take four picks at a time) to see how far I could get. I managed to get a 4th round pick (27 in the round) from the Seahawks.
This left me with four 2nd round picks, two 3rd round picks, one 4th round pick, and a lonely 7th rounder, so I used my 7th rounder to move up a little in the 2nd.
Now I had a draft with four 2nd rounders in a year where I thought this was the sweet spot for value. I also had two 3rds, and a 4th. This left me with 7 picks… just like a regular draft. The difference was that I traded that top positioning to bolster the middle rounds.
Here are the results: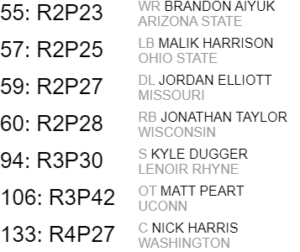 .
Round 1
No picks due to trade.
.
Round 2
Brandon Aiyuk – Wide Receiver
Profile: Brandon Aiyuk has good size, good timed speed and better game speed, and plays physical with good body control. A former JUCO player who has continually improved each year, he uses his body to create separation and is a master of getting yards after the catch. He struggles with press coverage at times, but it otherwise a complete receiver with great kick and punt return ability.
Analysis: The board was tough at 30 and Aiyuk was the top guy on my list. After trading down nearly a full round (and picking up two extra 2nd rounders), I still got the guy I wanted. This is just one simulation and isn't guaranteed to happen, but it illustrates the talent plateau that starts towards the end of the 1st round and goes all the way through the 2nd. With the opportunity to pick up potential 1st round talent and immediate starter this late in deep receiver draft, trading down can make a lot of sense.
Malik Harrison – Inside Linebacker
Profile: A thick-framed thumper who fills gaps, Harrison isn't quite the sideline-to-sideline linebacker that teams covet, but with 4.66 speed, he's darn close. Not great in man coverage, he played faster and smarter this season, showing that he's still improving. He's an aggressive downhill player that can handle dropping back in zone coverage and would be the best inside linebacker prospect the Packers have drafted since AJ Hawk… but with the potential to be more dynamic.
Analysis: After the big three inside linebackers all went before 30, Harrison was my next choice at the position. Given the way the talent level plays out, he was still available in the late 2nd round, again showing the value of trading down in this draft. Harrison comes into a favorable situation where he can be an immediate 3-down starter or be eased into the role behind veteran Christian Kirksey. 
Jordan Elliott – Position
Profile: A stout two-gapper with a strong upper body, Elliot doesn't shoot gaps, he controls them. Hes been bulking up with good weight and playing with increased strength last year. He jolts blockers with his first move. More of a tank than a energy guy, he wasn't asked to rush the passer much, but has shows some natural ability despite having unrefined move. He still has room to grow.
Analysis: I was hoping Ross Blacklock or Neville Gallimore would make it this far, but I just missed them. Elliott isn't far behind those guys, though, and getting him with Aiyuk and Harrison would get this class off to a very good start. Elliott is the kind of run stopper the Packers have lacked and could immediately become a three-down starter. At 6'4, he has the length Packers covet up front.
Jonathan Taylor – Running Back
Profile: One of the most productive backs in college football history, Taylor has prototypical size and speed. He has the vision to produce in a zone system, the frame to pound inside, and the speed to bounce outside. Last year, he started to produce as a receiver, as well, making him a complete back. The biggest knock is that he has a lot of tread on his tires and fumbles a little more than most.
Analysis: There wasn't a tackle I was in love with (though center Cesar Ruiz was an intriguing option), but I just couldn't pass up the talent that Taylor brings to the table here, especially when Jones, Williams, and Ervin are all coming up for contracts at the same time. Taylor could allow the Packers to let Jones walk for an expensive deal, then plug Taylor in for the next few years (picking up a compensatory pick in the process).
.
Round 3
Kyle Dugger – Safety
Profile: A pure athlete, Dugger is a big 6'1 217 safety with 4.49 speed who rose from the D2 ranks to blow everyone away at Senior Bowl practices. He's great at close tackling, though a little shaking wrapping up in open field. He's quick in man coverage, where his technique is still developing, but he's a monster in zone with great ball skills. He's a versatile player that can play either safety spot, linebacker, returner, and even running back.
Analysis: Safety wasn't a huge need, but I couldn't pass up a defensive back with this talent at this point in the draft. This is one of the privileges afforded to teams who have extra picks to fill their needs and don't have to reach for positions. There were a few tackles I still liked on the board and I just had to hope one would slip because Dugger is a chess piece that can make the Packers defensive backfield a true terror.
Matt Peart – Offensive Tackle
Profile: At "only" 318 pounds, Peart has room to add muscle to his massive 6'7 frame. His hand work needs some coaching, but he has great bend for a guy his size, maintains leverage, and shows great athleticism in pulling and sliding into the second level. He is a great zone blocking right tackle prospect.
Analysis: Well, what do you know? One of those tackles I wanted fell. The wide receiver class gets all the press, but this offensive tackle class is just as stacked. Peart is a great specimen who could play swing tackle right off the bat and prevent the Packers from needing to call Jared Veldheer is someone gets hurt. With his tools, he definitely has the look of a long-term right tackle.
.
Round 4
Nick Harris – Guard/Center
Profile: An athletic zone blocker, Nick Harris doesn't have great strength, but his mobility shines. He has good timing on combo blocks and handoffs and covers gaps with quick lateral movement, especially against delayed blitzes. A bit undersized at 6'1 302, he shows good recovery after jolt and wrestles for leverage against power rushers with low center of gravity. Above all, he's a smart player with the ability to handle all the blocking calls and adjustments.
Analysis: With Corey Linsley coming up on contract (and already having a big cap number), the Packers could use a center of the future. Harris is a perfect match for Day 3 value in a zone blocking system.
.
Round 5
No picks due to trades.
.
Round 6
No picks due to trades..
Round 7
No picks due to trades.
.
Analysis
.
Of Note
Jerry Jeudy lasted until 20 overall, which may have prompted some to want to move up instead of down. However, I think this could have created a talent crater like the poor move the Falcons made for Julio Jones.
If I would have stayed at 30, my top choices would have been Xaiver McKinney, AJ Epenesa, Grant Delphit, D'Andre Swift, Jonathan Taylor, or Brandon Aiyuk. I wouldn't have been excited to spend a 1st on either of them… but they were all nice options in the 2nd and I actually ended up with two of them.
When I got to my 2nd round pick at 23, I actually had some competitive offers to move into the 3rd, but I wasn't trying to stockpile picks, I was trying to see what I could get on Day 2.
.
Go deeper!
.
Check out our PFTW 2020 Mock Draft Archive to see how other scenarios played out!
Check out Packers Draft Central 2020 for all our 2020 NFL Draft coverage!
.