A quarterback that was in consideration for the number 1 overall pick.
He falls.
The Packers, who already have an MVP quarterback with a Super Bowl win on his resume, take him.
We've seen that play out before.
This time, we're trading up to make it happen, but it's a similar tale.
I didn't set out to trade up for Tua, but when he started falling, I starting thinking about the "what if" scenario. Could the Packers trade up for their future quarterback and still get enough talent to compete with their current quarterback?
I tried to find out.
Here are the results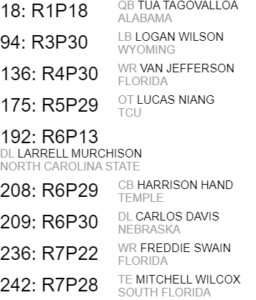 .
Round 1
Tua Tagovailoa – Quarterback
Profile: A talent worthy of the number 1 overall pick. Before his injury, he looked like a lock as NFL teams "tanked for Tua." He can run, he can throw, he can do it all. He's quick to get through his reads and accurate with his throws. he has nice zip on his quick hitters and a soft touch on his deep balls. He's been banged up, but that's the only real knock on him.
Analysis: It took my 2nd round pick to be able to afford to move up this high. That could make it tough in the short term, to fill needs, but it could be a gold mine in the future. Before his injury, he was talked about as a consensus number 1 overall pick. When he started to drop into the middle of the first, I had to play the what if game. I'd be surprised if he made it out of the top 5, shocked if he made it out of the top 10. You'd seen enough Rodgers references to make your head spin if he did and if the Packers were the ones to nab him, the internet might break.
Round 2
No pick due to trade
.
Round 3
Logan Wilson – Inside Linebacker
Profile: A converted safety, the 6'2 241 Wilson can cover. He brings his arms wide in tackling and doesn't let many runners miss. Decisive, instinctive, and quick, he figures out plays and attacks. He won't blow guys up and make a ton of wow plays, but he will play mistake-free football.
Analysis: The Packers still need help on the inside and Wilson is the type of versatile 3-down player that the Packers covet. He's not a blow-up artist that dominates against the run, but he's built thick enough that he wont get pushed around, which is something the Packers could use.
.
Round 4
Van Jefferson – Wide Receiver
Profile: Not fast, but polished with good hands and great routes. He showed off at Senior Bowl practices, where the top corners had a hard time sticking with him even though his times speed wasn't great. He's a pro ready prospect even if he's near his ceiling as a 24 year old rookie.
Analysis: It's a deep draft for receivers and that's one of the top factors that could allow the Packers to trade up aggressively if there's someone they really like early. Getting talent like this on Day 3 would make things manageable for the team in the near term.
.
Round 5
Lucas Niang – Offensive Tackle
Profile: A very smart tackle who handles switches and pickups with very little pause, the 6'6 315 Niang shows the ability to play in any scheme. He has drive blocking power and great mobility for zone blocking. He uses his hands well and can hold the point despite a skinny lower body.
Analysis: I'm stunned Niang fell this far. He had hip surgery in November, which could cause teams to pause on him. A fall like this would be a dream for the Packers and in many ways, would make up for missing out on a 2nd round pick. If you could guarantee getting Wilson, Jefferson, and Niang in rounds 3, 4, and 5, I would make a trade up in the 1st every single time.
.
Round 6
Larrell Murchison – Defensive Lineman
Profile:A unique prospect. At 6'2 297, he's built like a quick step gap penatrator. He is, but he was asked two 2 gap a lot in college and managed to pull it off because of his lower body power. He might not be able to handle that in the pros, but there's a lot of potential in his pass rush work, especially if he can improve his technique and counters.
Analysis: With all the emphasis on wide receiver and linebacker, the defensive line doesn't get the attention it deserves as a major need. Maybe the Packers have a plan, like playing Rashan Gary or Za'Darius Smith on the line more, but after getting raked again and again by the 49ers, something has to be done. Moving up in the 1st for a quarterback would make it harder, but Murchison could be a great option this late under any scenario.
Harrison Hand – Cornerback
Profile: Harrison Hand is built thin at 5'11 197, but he plays with attitude and has a good press technique. With 4.52 speed, he can get beat deep, but his good instincts and ball skills keep him close most of the time. He plays with attitude and isn't afraid to get dirty in run support.
Analysis: The Packers don't even have a slot starter at this point and they run nickel as their base defense. Add in the fact that Kevin King is looking like a 50-50 proposition at best to be re-signed next year and cornerback becomes a huge need that is rarely talked about. It's nearly a guarantee that the Packers will take one, and moving up in the 1st for a quarterback could make it harder to fill all the short-term holes. A guy like Hand is as good as it gets this late.
Carlos Davis – Defensive Lineman
Profile: With a stout 6'2, 313 pound build, Davis has the compact power to hold point in the run game, but his short arms make it hard for him to be a penatrating disrupter. His pass moves are limited, but he can take on 2 gaps without being moved and is a solid role player in run support.
Analysis: The Packers need help stopping the run. Davis won't dominate and he won't add much as a pass rusher, but he won't get pushed around in the run game. They need guys like that.
.
Round 7
Freddie Swain – Wide Receiver
Profile: An elusive 6'0, 197 slot receiver with 4.46 speed, Swain has a nice burst off the line and natural moves to get open. He needs to refine his routes, but has good hands and is elusive with the ball in his hands. He's also produced as a punt returner.
Analysis: The Packers can handle all the competition at receiver that they can get and getting a guy with special teams experience is an added bonus.
Mitchell Wilcox – Tight End
Profile: Wilcox has decent size at 6'3 247 and decent speed at 4.88. He's a decent blocker and has decent hands. He's pretty much decent at everything. No glaring weaknesses, but a decent blocker and receiver who can fill out the bottom of the roster and not lose games for the team when pressed into duty.
Analysis: LaFleur likes tight ends and with Jimmy Graham gone and Marcedes Lewis on his last legs, getting a developmental tight end makes a lot of sense. Wilcox is versatile and has a low basement – there's no reason to think he cant be a solid pro.
.
Understand even more!
Get even deeper into understanding draft strategy with our new book (rated a #1 New Release): A Fan's Guide To Understanding The NFL Draft: Strategies, Tactics, And Case Studies For Building A Professional Football Team
Available in ebook and paperback – and free for Kindle Unlimited subscribers!
If you don't have Kindle Unlimited, you can get a free trial of Kindle Unlimited here!
Don't just watch the draft – understand it and learn why GMs make the moves they do.
.
Check out our PFTW 2020 Mock Draft Archive to see how other scenarios played out!
Check out Packers Draft Central 2020 for all our 2020 NFL Draft coverage!
.