As a reminder, our mock drafts aren't meant to predict who will go where or what players the Packers will take.
They are an exercise to learn more about the prospects and see who might be available in which areas.
At the same time, I'm a fan of trading down to get additional value. In this simulation, I was offered a big trade to move down from the Rams: move from #15 to the top of the 2nd round and pick up a couple 3rd round picks and three more 5th round picks.
I got three Day 2 round picks for the Packers #15 overall pick. I don't think this will happen, but it's a good way to learn about more early round prospects, since the draft can be so unpredictable. This was a fun one. Buckle up.
Here are the results: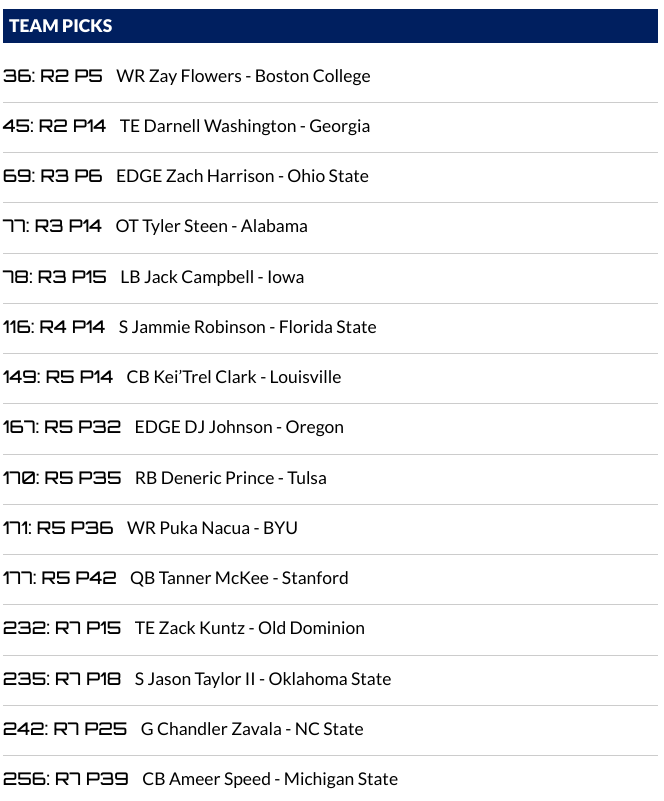 .
Round 1
No first round pick due to trade
.
Round 2
Zay Flowers – Wide Receiver
Profile: At 5'9, 185, Flowers plays quick and twitchy, above even his 4.42 speed. He has waterbug jukes and is just plain fun to watch with the ball in his hands. A joystick player out of the slot, we wins with instincts and suddenness… cause he sure ain't gonna run anyone over.
Analysis: This is not a prototypical Packers pick. However, with a new quarterback running a different version of the offense than we've previously seen, a player like this (who fits in the NFL trend of mimicking college offenses), can fill the hole at slot receiver and bring more big play ability to the offense. Flowers has been mentioned as a potential 1st round pick, so grabbing him means that trade down wasn't necessarily a huge loss, but will give the Packers additional value later.
Darnell Washington – Tight End
Profile: A dominating blocker at 6'7, 265, Washington is a big, athletic target, who hasn't yet nailed the art of route running. He can hammer defenders as an inline blocker or while moving as a zone blocking in space – he just gets after guys. The receiving end of his game is still developing, but he has a lot of tools and potential.
Analysis: Washington blocks like a late-career Marcedes Lewis, but has the potential to be a receiver like an early-career Marcedes Lewis. Whatever role he plays, the Packers need help at tight end.
.
Round 3
Zach Harrison – Edge
Profile: Long and strong at 6'5, 275, Harrison is athletic and comes up with big plays, but disappears for stretches. Explosive off the ball, he fights through blockers and has a powerful chop move, but is limited with a lack of bend around the corner. 
Analysis: You can never have too many edge rushers. This is a shallow class in that department, but Harrison has the kind of size the Packers like on their edge rushers. They favor big, strong edges to the bendy quick-twitch guys, making him a good fit. 
Tyler Steen – Offensive Tackle
Profile: At 6'6, 320, Steen is strong enough to stonewall defenders, but doesn't drive them off the ball. He does, however, get off the snap quick and moves well for a zone blocking scheme. 
Analysis: The Packers have some questions marks at tackle, which is a position they've had success developing guys at. Steen's athleticism and size fit the profile of what they look for.
Jack Campbell – Inside Linebacker
Profile: A big inside presence, the 6'5, 249 Campbell thinks quick and plays physical. He doesn't have the widest range, but reacts fast to make up for it. With a great feel for the ball and collapsing down on it in run defense, he is also decent in zone coverage.
Analysis: The Packers don't really need another inside linebacker, but Campbell was so far ahead of everyone else on the board that I couldn't justify reaching for need. You never know when having another good inside linebacker might come in handy. He could lessen the impact of an injury or give the Packers flexibility for some more creative front alignments.
.
Round 4
Jammie Robinson – Safety
Profile: At 5'11, 190, Robinson has some size limitations that show up against blockers. But he plays with non-stop energy in chasing down ball carriers. He reads the quarterback well and gets in position to disrupt catches, even though he rarely comes down with the ball.
Analysis: The Packers have a lot of holes in the safety depth chart. They want guys who play with good range and can play the run as well as the pass. Robinson fits that bill.
.
Round 5
Kei'Trel Clark – Cornerback
Profile: Undersized at 5'10, 180, Clark is an instinctive player who plays even faster than his 4.42 timed speed. He knows how to get after the ball, and thrives in off-man coverage where he can read and react. His size is a limitation for catch radius and getting pushed around by bigger receivers.
Analysis: The Packers usually run with extra defensive backs, allowing them to play good matchups. This means one undersized defender won't block the whole scheme. Yes, they had Jaire, but he plays much bigger than his size.
DJ Johnson – Edge
Profile: The 6'4, 260 Johnson is athletic for his size and uses his length to get good leverage around the edge. His quick get off translates to strong pop off the snap. He doesn't let up, but still lacks some move technique and secondary moves.
Analysis: More edge depth from a player who has the frame to run in the Packers scheme. Getting a regular rotation on the edge could give guys some breathers and potentially limit injuries. If nothing else, it prepares them for Preston Smith's waning years. 
Deneric Prince – Running Back
Profile: A 6'0, 215 straight line runner, Prince charges ahead with purpose. He's strong, but runs a little high and needs help with blocking technique. He can be a changeup hammer.
Analysis: The Packers need another back who can take a few quality snaps each game. A guy like Prince could take some punches to spare AJ Dillon all the wear and tear in grind-it-out situations.
Puka Nacua – Wide Receiver
Profile: Nacua uses his 6'2, 200 frame to shove corners around, whether it's to get a release or after taking a screen. With 4.56 speed, he can get vertical, , but routes aren't as sudden as they could be, which limits his ability to separate. He plays physical at the catch point and in blocking. 
Analysis: The Packers use big receivers in their offense and need guys who can block. Nacua would be a nice addition to a young receiving corps that has plenty of open spots.  
Tanner McKee – Quarterback
Profile: At 6'6, 230, McKee has prototypical size and is a pure pocket passer. He has limited mobility, but a strong arm and great size. His arm can throw pretty much anything, but accuracy doesn't always find the mark.
Analysis: McKee has the physical tools to be a great developmental candidate who can be a valuable backup to Jordan Love.
.
Round 7
Zack Kuntz – Tight End
Profile: At 6'7, 255, Kutnz is a big target who runs nice routes and gets open with 4.55 speed. He has a big catch radius, but doesn't do much with the ball in his hands or block very well. He has a frame that could be developed into a better blocker, but is a "just go out and catch the ball" guy at this point. 
Analysis: The Packers use a lot of different types of tight ends in their offense. One of those is basically a pure receiver. Kuntz would fill that role nicely as a big target who can come through on third down and goal line situations.
Jason Taylor – Safety
Profile: At 6'0, 200, Taylor brings 4.5 speed and an aggressive demeanor against the run and the pass. He has good timing on pass breakups and is solid tackler, though he has limited range and can get caught peeking in the backfield.
Analysis: A depth guy with special teams potential, Taylor could carve out a niche in sub sets with extra DBs. His pass breakup ability would come in really handy in long passing situations.
Chandler Zavala – Offensive Guard
Profile: With a 6'3, 315 frame, Zavala is big and strong. He generates movement off the snap, and is mobile enough to pull. His arms are a little short and he had a back injury that will be critical to where (or if) he's selected.
Analysis: Zavala is a great prospect who could easily go earlier. His mobility is rare for his size, which makes him a great fit for the Packers. The medical issue may determine where he goes. If he can play (even after a year on the practice squad), he would be a steal at this point.
Ameer Speed – Cornerback
Profile: With 6'3, 210 size and 4.33 speed, Speed has incredibly rare physical gifts. He played very little in his 5 years at Georgia, where he graduated with a sociology degree, before transferring to Michigan for his final year of eligibility. Fast and explosive with good ball skills, he struggles with recognition, and is an intriguing athlete to try on Day 3.
Analysis: More than a catchy name, Speed is a rare blend of speed and size. He's still a little raw, but could be a special teams dynamo with the ability to develop into a consistent defensive contributor.
.
Analysis
This draft has, well, everything. With so many picks after trading down, the Packers picked up a ton of depth and some immediate contributors in this mock.
Zay Flowers and Darnell Washington immediately upgrade the offense, while Prince, Nacua, and Kuntz provide role player support. 
On the offensive line, Steen and Zavala may not have immediate impact, but could certainly become future starters.
The defense gets much needed depth at edge (with Harrison and Johnson) and safety (with Robinson and Taylor), plus a surprise faller Jack Campbell.
Developmental prospects like Tanner McKee and Ameer Speed bring more hope for the long-term future of this huge class.
.
Of Note
Jake Haener, who I really want on Day 3 as the Packers backup quarterback, went to Houston at the top of the 4th round with pick #104, the highest I've seen him go yet.
For this mock, I drafted against the board from Draft Diamonds.
.
Want to learn more!?
Don't just watch the draft – understand it and learn why GMs make the moves they do. Get more insight into how winning teams build through the draft (and how losing teams fail)!
Start with a introduction to how the draft works then get deep into understanding draft strategy with our draft book (rated a #1 New Release): A Fan's Guide To Understanding The NFL Draft: Strategies, Tactics, And Case Studies For Building A Professional Football Team
.
Then jump into free agency with another #1 New Release: A Fan's Guide To NFL Free Agency Hits and Misses to better understand this critical part of the NFL offseason and see where teams have found (or missed) success in this critical component of team-building.
Finally, get to the game behind the game with our latest must-have book: A Fan's Guide To Understanding The NFL Salary Cap – which lays out detailed, easy-to-follow scenarios to explain exactly how contract structures and salary cap rules impact teams. This book explains why teams do what they do in the offseason!
All these great books are available in ebook and paperback – and free for Kindle Unlimited subscribers! If you don't have Kindle Unlimited, you can get a free trial of Kindle Unlimited here!  
.
Check out our PFTW 2023 Mock Draft Archive to see how other scenarios played out!
Check out Packers Draft Central for all our latest NFL Draft coverage!
.