In light of the Packers draft-rocking trade of Aaron Rodgers, we'll be doing a series of three round mock drafts to see how the new pick positions might impact the Packers at the top of the draft.
As a reminder, our mock drafts aren't a prediction or even who we'd like to see picked – they are a chance to look at different simulations to see which prospects might be available when the Packers are up to pick.
In this case, offensive line showed a lot of value. 
Here are the results: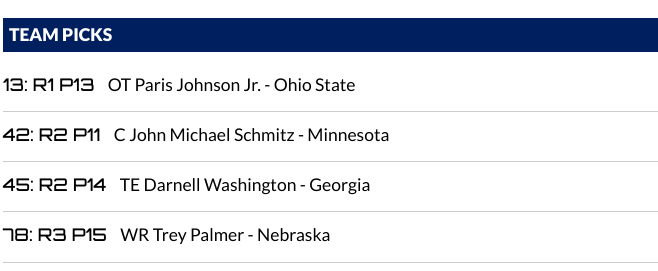 .
Round 1
Paris Johnson – Left Tackle
Profile: Huge and athletic, the 6'6, 315 Johnson has unlimited potential. Still developing hand work and strength, but is otherwise a dominant blocker with great feet and movement to hit the second level. Uses long arms to keep blockers at bay and finishes with authority. Also a high character prospect with lots of volunteer work for underprivileged kids.
Analysis: The Packers aren't sure how effective David Bakhtiari will be this year, but they are sure his contract is unmanageable for next year. He probably doesn't have more than a year at most left with the team and left tackle prospects don't drop past 10 very often. Packers have bigger needs, but might not find a better value.
.
Round 2
John Michael Schmitz  – Center
Profile: A big interior presence at 6'4, 320, JMS uses has a strong anchor and wins with hand placement. He's not a dynamic athlete, but uses his wrestling background to beat opponents with leverage. He's already 24, so may be close to his ceiling, but it's not a low ceiling and he turned in one of the better Senior Bowl performances among offensive linemen.
Analysis: Josh Myers has been inconsistent and the Packers need a strong line if they want their young quarterback to be successful.
Darnell Washington – Tight End
Profile: Another prospect with unlimited potential, the 6'7, 265 Washington is a powerful blocker from inline sets and can move to get out and block in space. His receiving skills are still developing, but his athleticism breeds optimism that he will become a valuable receiver.
Analysis: There were a surprising number of wide receivers and tight ends still available here in this simulation. The Packers might have a slightly bigger need at tight end, so I went with Washington. His potential is sky high and he's been a mock draft riser lately, but this might be a realistic spot with good value.
.
Round 3
Trey Palmer – Wide Receiver
Profile: Fast (4.33) with solid size at 6'1, 190, Palmer blew past the field during Senior Bowl practices, which could make him a late riser. His route running is still improving, but he can get deep and make big plays. He played a lot in the slot and didn't face a lot of press coverage, leading to questions about strength.
Analysis: The wide receiver talent dried up quickly after I took Darnell Washington. I was hoping for better receiver value, but Palmer is a nice consolation prize. He has solid height and plays at a speed that will help Jordan Love. His familiarity with the slot position will make him a seamless fit on the Packers offense.
.
Analysis
The Packers get some really high-potential guys in Johnson and Washington, who could grow into stars. Adding John Michael-Schmitz with those guys gives the offense a few upgrades in the blocking department.
Getting Trey Palmer is a nice way to bring some spark to the offense, though the defense was neglected early in this simulation.
.
Of Note
Rashee Rice, who could have been a fantastic round 3 value at wide receiver, went to the Rams one pick before the Packers 
For this mock, I drafted against the board from Steve Shoup from FanSpeak.
.
Want to learn more!?
Don't just watch the draft – understand it and learn why GMs make the moves they do. Get more insight into how winning teams build through the draft (and how losing teams fail)!
Start with a introduction to how the draft works then get deep into understanding draft strategy with our draft book (rated a #1 New Release): A Fan's Guide To Understanding The NFL Draft: Strategies, Tactics, And Case Studies For Building A Professional Football Team
.
Then jump into free agency with another #1 New Release: A Fan's Guide To NFL Free Agency Hits and Misses to better understand this critical part of the NFL offseason and see where teams have found (or missed) success in this critical component of team-building.
Finally, get to the game behind the game with our latest must-have book: A Fan's Guide To Understanding The NFL Salary Cap – which lays out detailed, easy-to-follow scenarios to explain exactly how contract structures and salary cap rules impact teams. This book explains why teams do what they do in the offseason!
All these great books are available in ebook and paperback – and free for Kindle Unlimited subscribers! If you don't have Kindle Unlimited, you can get a free trial of Kindle Unlimited here!  
.
Check out our PFTW 2023 Mock Draft Archive to see how other scenarios played out!
Check out Packers Draft Central for all our latest NFL Draft coverage!
.